Home> Products Information > V100 SERIES
Product Overview
Introduction of our recent innovations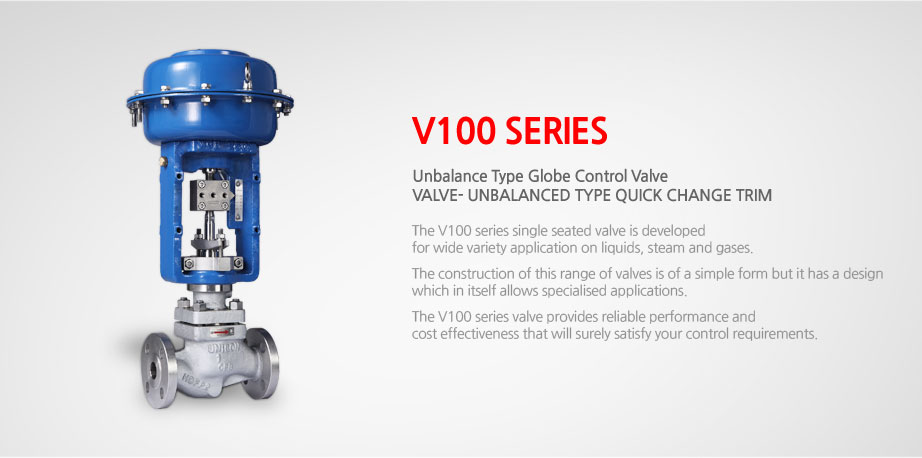 Standard Body Specification : Basic Design Standard : ASME B16.34

standard specification
Body Style
Straight way globe valve, Angle type, Jacket type
Bonnet
Plain (Standard)
Fin & Extension
Bellows Seal
Long Extension (Cryogenic Service)
Size Range
1/2" to 6" (DN15 DN150)
Pressure Rating
ASME 150Lb to 2500Lb
JIS 10K to 180K
PN20 to PN420
Operating
Pressure Range
Up to 6171psi (g), 
Up to 434 Kg/cm² (g)
Operating
Temperature Range
-58℉to +1,050℉
-50℃ to +565℃
Option : -320℉ to +1,562℉
-192℃ to +850℃
End Connection
Socket Weld - ASME B16.11
Butt Weld - ASME B 16.25
FF/RF/RTJ Flange - ASME B 16.5
Option JIS Flange, DIN Flange, NPT/PT Screw
Materials
Carbon Steel (WCB, WCC, A105)
Chrome-moly Steel (WC6, WC9, C12A, F11, F22, F91)
Stainless Steel
(CF8, CF8M, CF3, CF3M, F304, F304L, F316, F316L)
Duplex Stainless Steel, Monel, Al Bronz, Inconel 625
Hastelloy B/C, Other Alloy
Actuator
Pneumatic Diaphragm
Pneumatic Cylinder
Electric Motor
Electro-Hydraulic
Standard Trim Specification : Unbalanced Plug Type Quick Changed Trim

others specification
Size Range
1/8\" to 6\" (3mm... 150mm)
Trim Style
P-Port (Parabolic Contoured Plug)
Micro Flow Split Plug
Multi-Step (Cascade)
Cage Window
Low-Noise Drilled Hole Cage (1/2/3-Stage)
Anti-Cavitation Channel Cage (1/2/3-Stage)
Labyrinth Disk Stack
Hybrid Trim (Dick Stac + Dril Hole Cage)
Plug Guide Method
Top Guide
Cage Guide
Flow Direction
Gas, Steam : Flow to Open
Liquid : Flow to Close
Cv Range
0.002 to 400
Flow Characteristic
Liner, Equal %, Modified Equal %, Quick Open
Seat Leakage
FCI-70.2
Standard : ClassⅣ
Option : ClassⅤ
ANSI ClassⅥ(Soft Seat)
MSS-SP61 (On-Off)
Materials
316 SS, 316 SS + Stellite #6
Hardend 410 SS/440C SS
17-4PH, F22 (Nitride treatment), F51
Inconel 718, XM19
Solid Tungsten Carbied Etc.
Design Flexbility

Inherently characterized trim offered in equal % linear and quick opening.
Multi trim sizes available.
Full range of body and trim material options.
Full rationalized and interchangeable features.
Full range of bonnet and packing designs to suit various temperatures and fluids.
Design Integrity

Quick changed trim for Easy Maintenance.
Large diameter stems for stable Operation.
Heavy duty top guiding with no bottom guide to obstruct seat bore
and potentially trap debris.
Performance

High Flow Capacity.
Tight Shutoff.
Stable Operation.
Excellent flow control rangeability.