Home> Products Information > A300 SERIES
Product Overview
Introduction our recent innovations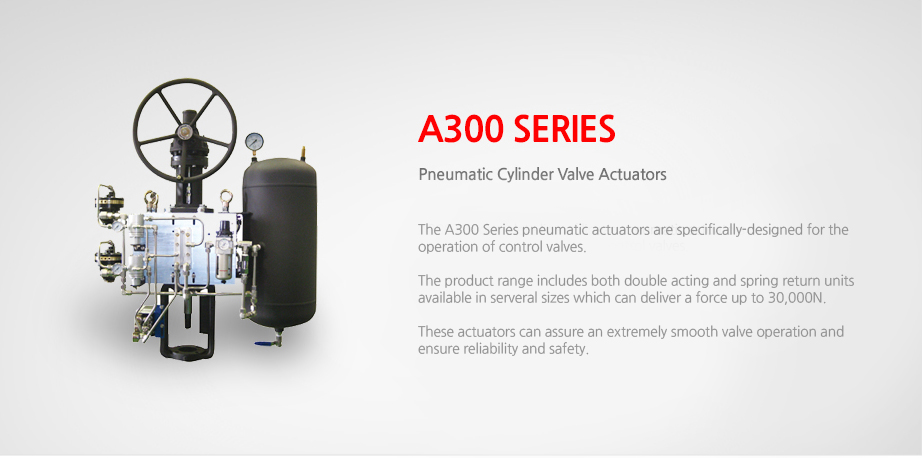 Standard Specification : Linear Motion Style(A300)

standard specification
Size
8", 12", 16", 20" (Inch Diameter)
Air Supply
5.0(7.0 Max.) kgf/cm2
Effective Area(cm2)
50 to 313
Travel Range(mm)
30 to 500 above
Temp. Range
-20℉ to +180℉, -30℃ to +80℃
Option : -40℉ to +248℉, -40℃ to +120℃
Materials
Cylinder : Amalgam(Fiber Composite), Carbon Steel, Stainless steel
Stem : Stainless steel
Piston : Carbon steel, Aluminum
Spring : Oil Tempered Spring Steel
Seal : EPDM / Silicone / Viton
Air Connections
NPT(BSPP), PT : 1/2", 3/4", 1"
Option
Top Handle,
Side Handle
Top Side Handle
Applications
Globe Valves, Gate Valves, PRDS
General Purpose

These A300 actuators, double acting or spring return type,deliver small to medium thrusts and are designed to satisfy the most common applications.

Manufactured of a corrosion-resistant material cylinder tube, they are suitable for service in harsh environments such as desert areas, power stations, petrochemical plants and steel industries.

Light weight, compact and functional design assures an easy installation.

Thanks to the patented built-in lubrication system common to all the A300 actuators range, they are virtually no need to maintenance.

General purpose A300 actuators are integrated by a complete line of pneumatic and electro-pneumatic positioner and accessories.

The shaft as well as the connection flange to valve can be manufactured according to the various applications to meet all the customer's specific needs.


Economical design.
Simply top and top side mounted hand-wheels.
High stability.
Compact design with reduced height.
High resolution.
Dynamic response.
Very fast stroking speed.
Very low dead band, hysteresis, linearity.